Thank you for your interest in joining the New Mexico Acequia Association for community events! Upcoming public events are listed below by date. At this time, all events are being held online and you can join via Zoom or phone. Email emily@lasacequias.org or call (505) 995-9644 with questions.
March 4th, 2021 – Acequia Career Day!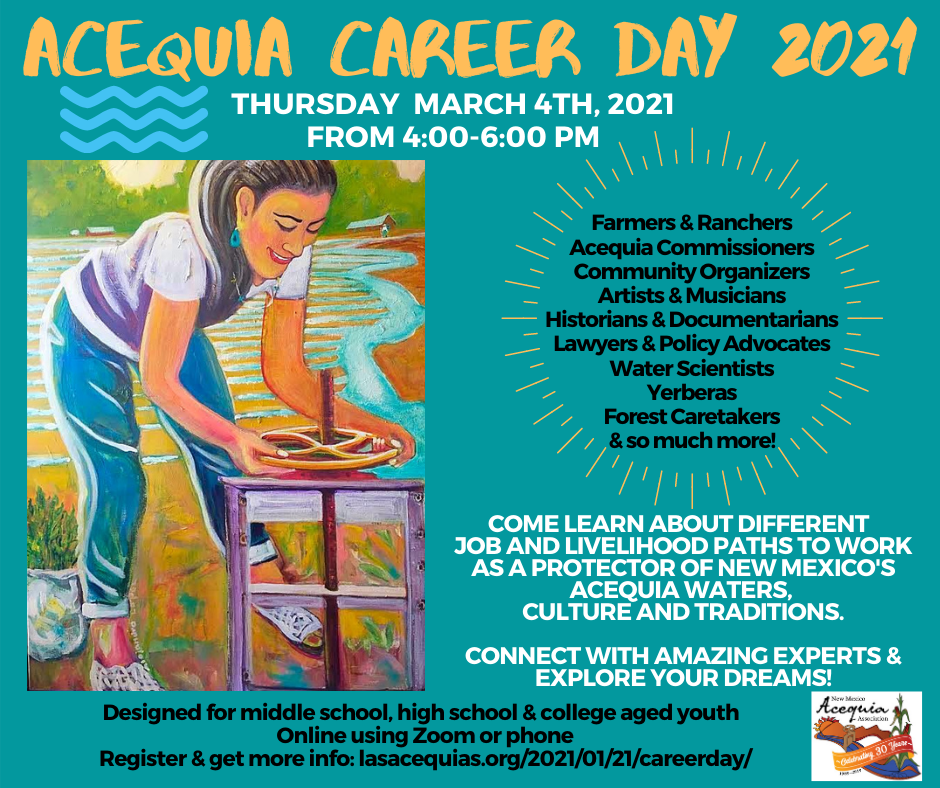 Acequia Career Day!
Thursday March 4th, 2021 from 4:00-6:00pm
New Mexico youth are invited to join an exciting ACEQUIA CAREER DAY event! This gathering will include presentations by inspiring experts and leaders who work in many diverse ways to protect NM acequia waters and acequia culture and traditions – such as acequia commissioners and mayordomos, historians, documentarians and storytellers, political advocates, lawyers, artists, musicians and poets, farmers and ranchers, herbal medicine makers and food business owners, scientists, caretakers of forests and soil, and more!
After the main panel, youth participants will be able to choose which career and livelihood paths interest them, and go into small groups to ask questions, dig in deeper, and brainstorm about how they can get involved in this work now and in the future!
This event is designed for middle school, high school and college aged youth, but is open to all ages and to families.
HOW TO JOIN!
OPTION A – Connect from your computer or smart phone app:
Download Zoom (free – you only need to do this once the first time you use zoom): https://zoom.us/download
Click or type this web address in your browser: https://zoom.us/j/92954264224
As the program opens, a box will pop up on your screen asking if it is okay to launch Zoom – click 'yes' – and then click 'join audio conference by computer'
If you can see but cannot hear when you join – look in your bottom left corner for the headphone icon and click 'join audio'
OR OPTION B – Call in from your phone:
Dial: 346 248 7799 OR 888 788 0099 (toll-free)
Enter the 'Meeting ID': 929 5426 4224
FEATURING wisdom keepers and acequia caretakers:
Gilbert Sandoval & Juanita Revak – father/daughter duo, Mayordomo for East and West Sandoval Ditch in Jemez
 Lucia Sanchez – Commissioner, Acequia del Alcalde
Dr. Estevan Rael-Gálvez

– Director of the Manitos Project and former State Historian of New Mexico

Levi Romero – New Mexico Poet Laureate 2020, Author and Assistant Professor in the Chicana and Chicano Studies department at UNM
Olivia Romo

– Acequia Poet and Water Rights Activist

David Garcia

– Acequia and community anthropologist, storyteller and músico

Jeremiah Martinez

– Acequia músico, songwriter, guitarist

Don Bustos

– Acequia farmer, Santa Cruz Farms

Miguel Santistevan

– Acequia teacher and farmer, Sol Feliz Farm

Donne Gonzales

– Acequia farmer, Chicoyole Farm and NMAA Los Sembradores Farm Trainer

Aracely Chapa

– PBS/NPR Broadcaster and Documentary Filmmaker, currently producing the documentary "Acequias: The Legacy Lives On

David Benavides

– Acequia lawyer, 

Director of the land and water rights project for New Mexico Legal Aid

Paula Garcia

– Acequia policy advocate, Executive Director of the New Mexico Acequia Association

Enrique Romero – Director of Legal Services for the New Mexico Acequia Association
Margaret Garcia

– Farmer and food business owner, Taos Real Foods

Pilar Trujillo

– Traditional herbal medicine

remedio

maker

Olivia Chavez

–  Traditional herbal medicine

remedio

maker

Chavela Trujillo

– Mapping Specialist for the New Mexico Acequia Association

Marcos Valdez

– District Manager of the East Rio Arriba Soil and Water Conservation District

Cliff Sanchez

– Valencia Soil and Water Conservation District

Thomas Gonzales

– Soil Conservationist with the Natural Resources Conservation Service (NRCS) Hernandez Field Office

Lily Conrad

– Graduate Research Assistant with NM Water Resources Research Institute