Thank you for your interest in joining the New Mexico Acequia Association for community events! Upcoming public events are listed below by date. At this time, most events are being held online and you can join via Zoom or phone. Email emily@lasacequias.org or call (505) 995-9644 with questions.
ONGOING March-September 2022 – Acequia Farm and Ranch Skill-Building Workshops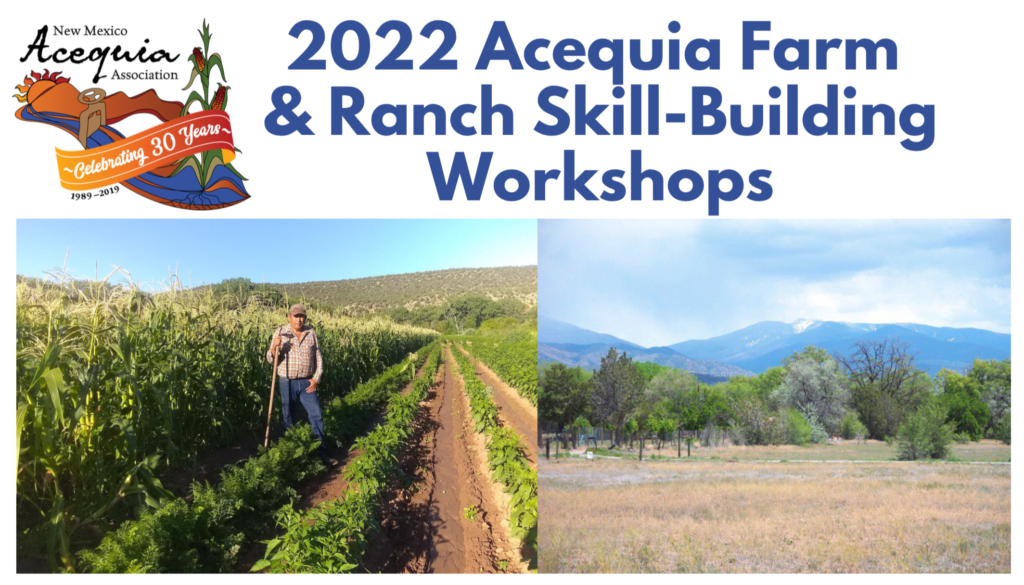 Join the New Mexico Acequia Association for our 2022 series of workshops for acequia farmers and ranchers. We will focus on the themes of building soil health, forest health, and resilient ranching practices – with one online workshop and one in-person field day for each theme. Workshops will feature the wisdom and skills of local maestros, and information on USDA programs and funding opportunities to help your acequia farm/ranch continue to thrive through times of climate change and drought.
Click here to RSVP for online workshops and/or in-person field days
PART ONE: ONLINE INTRO WORKSHOPS

–
Wednesdays from 6:00-7:30 pm
Free and open to the public, join by Zoom or phone
March 23rd –

Soil health as drought protection

with Vincent Garcia
April 13th –

Caring for your forest lands to reduce fire risk and increase water yield, maestros TBA

April 27 –

Prescribed grazing and native pasture for a resilient ranch with Virgil Trujillo
PART TWO: IN-PERSON FIELD DAYS –
To be announced, Summer 2022
Click here to RSVP for online workshops and/or in-person field days
ONGOING Feb-June 2022 – Youth Event Series: Career & Life Paths To Care For Your Acequia Community