Concilio (Board of Directors)
Harold Trujillo – La Asociacion de las Acequias del Valle de Mora
Alfredo Montoya – Las Nueve Acequias del Rio Grande
Gilbert Sandoval – Jemez River Basin Coalition of Acequias
Don Bustos – Rio Quemado, Rio en Medio, Rio Frijoles, Rio Santa Cruz Acequia Association
Antonio Medina – La Asociacion de las Acequias del Valle de Mora
Santiago Maestas – South Valley Regional Association of Acequias
Jackie Powell – Upper Hondo Water Users Association
Stephen Trujillo – Taos Valley Acequia Association
Medardo Sanchez – La Asociacion de las Acequias Nortenas del Rio Arriba
Yolanda Jaramillo – Embudo Valley Acequia Association
Darel Madrid – Rio Chama Acequia Association
Staff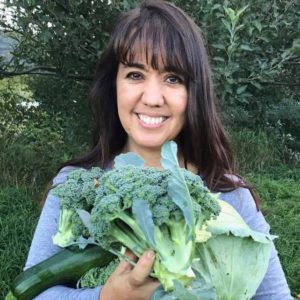 Paula Garcia – Executive Director
lamorena@lasacequias.org
Paula Garcia is Executive Director of the New Mexico Acequia Association. During two decades of her service, acequias in New Mexico have built a movement around the principle that water is life, agua es vida. Through her leadership, acequias have strengthened community self-determination through local water governance, have enacted policy reforms protecting rural, agricultural water rights, and have fought for clean water to flow in our rivers. With the NMAA team, she has also established innovative youth and leadership development projects and farm apprenticeships that seek to strengthen the next generation of farmers and ranchers who are caretakers of water, land, livestock, and native and heirloom seeds. With her family, Paula cares for a small ranch and traditional gardens characteristic of the subsistence agriculture of her ancestors. When not living and breathing acequias, Paula can be found hiking, playing classical piano, and cooking a simple meal based on some variation of corn, beans, and chile. Her son is a first year student of the United World College which is dedicated to global peace and sustainability through education.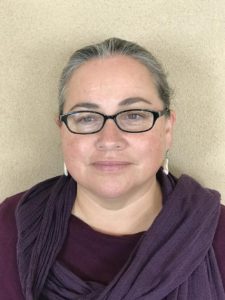 Juliet Garcia-Gonzales – Director of Operations
juliet@lasacequias.org
Juliet is a lifelong resident of Chamisal, NM and is the proud mother of 4 children. She is a neighbor to her parents and 3 grandchildren.  She feels a strong obligation to serve the community that has held her family for many generations. She currently serves on the Chamisal Mutual Domestic Water Consumer Associations Board (9 yrs.), Chamisal Community Cemetery Board (7 years), and El Centro Family Health Board (15 years). She served on the Penasco Independent School Board (12 yrs.), and also served on the HELP New Mexico Advisory Committee (3 yrs.).  She is the Director of Operations for the New Mexico Acequia Association, a traditional Yerbera and winemaker. In her free time she enjoys making jewelry and gathering firewood in the mountains with her family.  She is passionate about maintaining and practicing local land-based traditions and feels that teaching it to families in a practical and relevant way ensures that our connection to land and family are passed on for generations to come.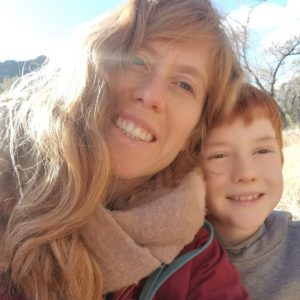 Serafina Lombardi – Director of Programs
serafina@lasacequias.org
Serafina started with the NMAA team in 2012 and serves as the Program Director. Since then acequias have grown to be an all consuming passion. She came to work for NMAA by way of her love of community and working the land. On her paternal side she hails from an unbroken line of subsistence farmers, since agriculture first came to the Italian peninsula. She was raised in the garden and is raising her boys the same way. Serafina's role at NMAA is to assist all programmatic areas in moving forward and supporting the team as needed (aka cheerlead, manage, reflect on progress and refine). In other areas of her work she is most enthusiastic about supporting our acequia communities to thrive and adapt through climate disruptions, as well as other challenges that we face. Over the years she has assisted many individual farmers and ranchers in accessing USDA programs, and through the work of the Infrastructure team has assisted acequias in implementing millions in state and federal dollars to make improvements. When not at her desk you can find serafina walking along the Rio Quemado, tending to her chickens, splitting wood, cultivating carrots or catching up with friends old and new.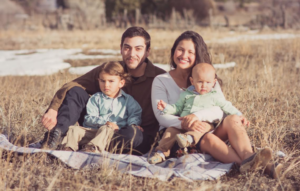 Toribio Garcia – Acequia Education Coordinator
toribio@lasacequias.org
Toribio Garcia is a lifelong resident of Chamisal NM.  Proud partner to Olivia Chavez and father to Toribio Garcia Jr. and Francisco Garcia. Toribio was raised off of the Acequia del Monte and has been an active peon since the age of 16. Toribio and his family are currently parciantes on the Acequia de Lino where they grow a garden, maintain a large high tunnel, and care for a few fruit trees. Toribio has been an NMAA employee since 2015 and participated in the Sembrando Semillas program since it was created in 2005. Toribio's role at NMAA is to assist Acequias in applying for Infrastructure funding. Toribio also assists with many other day to day tasks needed by the team. These include managing contacts, working on various lists, and attempting to get all tasks that are requested completed in a quality and timely manner. Toribio really enjoys working with Acequias and assisting the people who volunteer their time for an important cause.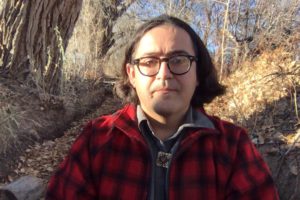 Dabi F. García, Ph.D. – Acequia Education and Outreach Coordinator 
davidfgarcia@lasacequias.org
Dabi F. García, Ph.D. is a cultural anthropologist, a graduate of UT Austin 2016, and a musician who reflects on the public spaces and cultural movements related to land based knowledges in the US southwest / northern Mexican borderlands. He received a MA in Spanish at UNM in 2008 and taught Spanish language at UNM in the Spanish as heritage language program. Born in the Española Valley, he and his family have been parciantes on the Acequia de los Salazares for more than 6 generations, where they grow various crops in their hoop house and apple orchard. He is proud that his first job at age 15 was as a peón de la acequia, and today he continues this work as an advocate for acequias with NMAA.
In addition, he has played violin with the ritual dance drama of Los Matachines de Alcalde for the last 25 years. He sees music and the arts as a vehicle to participate and promote community engagement in the NM acequia movement as well as immigrant rights activism. He was among the principal collaborators of the formation of NMAA's Escuelita de las Acequias which promoted better communication and resolana among acequieros to better organize and share local knowledge to keep up with the demands and challenges of today's world.
In his spare time he has played in numerous local bands, the Al Hurricane band and the Blue Ventures, or as a duet with Jeremías Martínez.  He has participated in the community folk dramas Los Pastores and Los Comanches, as well as NMAA' Teatro de las Acequias. He composes canciones, corridos, entregas de novios and has written some of the first décimas in New Mexico since the 1950s. He says,  "I see my work as a "promotor de la cultura" promoting knowledge and dialogue about our shared cultures, languages, histories and lifeways."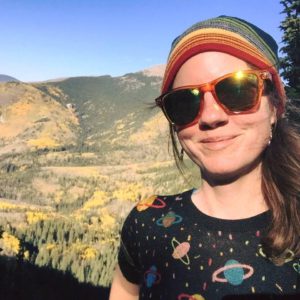 Jaimie Park – Lead Policy Analyst
Jaimie started with the NMAA team right as the 2021 New Mexico legislative session was taking off.  She came to NMAA with a background in environmental justice law, with a focus on water quantity and quality matters. The focus of her work has been the protection of traditional water uses and ways of life in New Mexico.  Jaimie hails from the Great Smoky Mountains of Western North Carolina, but has lived and worked in Alaska, Wyoming, Montana, Oregon, and Arizona, learning with and advocating for indigenous communities.  She came to New Mexico in 2014 to serve as a public defender in San Juan County, and then worked as an environmental justice attorney with the New Mexico Environmental Law Center.  At NMELC, Jaimie worked with community organizations in the fight against the proposed Santolina development, in holding the Los Alamos National Laboratory accountable, in protecting public participation in the environmental permitting process, in promoting governmental transparency, and in stopping new mines from opening and old mines from reopening.  Jaimie has also been successful in preventing water mining of the San Agustin aquifer. After nearly five years with NMELC, Jaimie served as in-house counsel for the Pueblo of Isleta, focusing on water, environmental, and natural resource matters, during one of the most challenging water management years and a global pandemic.  Jaimie is now very excited to serve New Mexico's acequias through policy and legal work.  When she isn't working on behalf of acequias she can usually be found in the bosque, observing porcupine and just being with the river.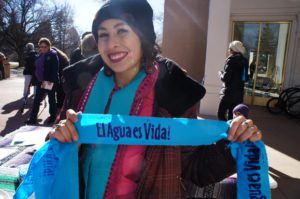 Donne Gonzales – Los Sembradores Farm Training Program Coordinator
donne@lasacequias.org
My name is Donne Gonzales, I'm 26 years old, and my heart belongs to the small community of Chamisal, NM.  I have been fortunate to care for summer gardens, and small livestock with my family which instilled in me a great sense of querencia for gardening, community, and traditional practices. I was given the opportunity of being a (NMAA) Sembrando Semillas participant for over 10 years. My current position is Farm Trainer for Los Sembradores farm training program. I love teaching others about the land, and being outside with mother earth and all her elements, which is where I'm most at peace. I have a good understanding of soil, seeds, bugs, remedios, and food! I love to bake sweet treats and celebrate life with my family. Learning new things with my daughter is one of my favorite things to do!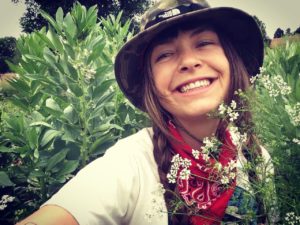 Emily Arasim – Youth Education Coordinator
emily@lasacequias.org
Emily was born and raised on the Acequia Madre de Tesuque, where she grew up trailing behind the mayordomo and playing in her mothers small garden. She now resides in Alcalde and is dedicated to learning from the land, and working with community to protect traditional seeds, farming, and water stewardship practices in New Mexico. As the Coordinator of Youth Education – she leads NMAA's school presentations, youth events, youth organizing efforts and curriculum development work. She also assists with NMAA communications, event coordination and other programs. Emily is currently working towards her Masters Degree in Community and Regional Planning at University of New Mexico, with a focus on just economic development in New Mexico's rural farming communities.  She spends her free time jamming out to old school hip hop music and trying to become a better cook and remedio maker.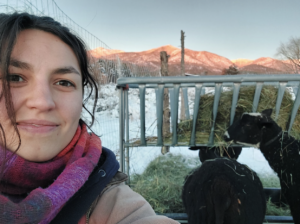 Alex Griffiths – Youth and Community Organizing Coordinator 
alex@lasacequias.org
Alex spent much of her life living all over the world and the US. Cool mountains and dusty sagebrush made up her summers with her norteña familia in Pueblo, CO while she spent the school year in the northeast, California and then Europe. Alex made her way to Taos in 2019 and dived deep into her mother's lineage, as well as southwest Indigenous sovereignty work. Spending time with family new and old, she has been an acequia farmer since 2021 in San Cristobal and raises a small herd of sheep. Growing up distanced from her roots, she was given the chance to connect to her culture with the Los Sembradores program in 2022. Dedicated to the stewardship of cultura, land, plantitos, animalitos and water, Alex joined NMAA as the Youth and Community Organizing Coordinator in 2023. She has a background in teaching, youth support work, and applied anthropology. She believes it's a true gift to be able to integrate her life's work with her people.
Essence Quintana – Administrative Assistant – essence@lasacequias.org