You are invited to join us for the 2020 Congreso de las Acequias! 
Unidos Con Fuerza:
Acequias Rising To Meet The Challenges Of Our Time
Saturday, December 12, 2020 – from 10:00-12:00 and 1:00-2:00
CLICK HERE TO REGISTER FOR CONGRESO 2020
CLICK HERE FOR Congreso de las Acequias Program
* To be held as a covid-19 safe, virtual gathering – join by computer or phone *
ABOUT CONGRESO 2020:
The Congreso de las Acequias is a vibrant, annual gathering of acequias and our supporters from throughout New Mexico and Southern Colorado. This year, our theme is Unidos con Fuerza – in which we honor the collective strength of our communities to endure climate change and the current pandemic. We will lift up our strength with a united voice to defend and protect our precious waters, and a call to action to use our knowledge, land, and water to grow food that nurtures our families, elders, and children. The December 12th event will include our traditional Bendición de las Aguas, acequia roll call, music and poetry, presentations, Concilio elections and resolutions, and opportunities to connect with community.
HOW TO JOIN US:
Click here to Register for Congreso 2020 – OR call our office at (505) 995-9644
After registering, you will receive an email with detailed instructions on how to use your computer or phone to join. We are also including call-in details below – however please do still register so we can have a record of who is joining us!
On the day of Congreso, you will follow instructions to join the event, which will be held on 'Zoom' (a free and easy to use program). We encourage you to join by computer if possible, so you can see photos and videos which will be shared throughout the day. You will be able to interact and communicate with your fellow acequieros.
There is no charge to attend Congreso 2020 – however we ask you to please consider making a DONATION to the New Mexico Acequia Association, to support our ongoing work to protect our acequias, honor our cultural heritage, and grow food for our families and communities. After registering, please CLICK HERE TO MAKE A DONATION to help sustain our work and movimiento.
ZOOM INSTRUCTIONS:
OPTION A – Connect from your computer or smart phone internet:
Download Zoom (free – you only need to do this once the first time you use zoom):

https://zoom.us/download

Click or type this web address in your web browser:

https://zoom.us/j/98044140210

As the program opens, a box will pop up on your screen asking if it is okay to launch Zoom – click 'yes' – and then click 'join audio conference by computer'.
OR OPTION B – Call in from your phone:
Dial: 877 853 5247 (toll-free) OR 888 788 0099 (toll-free)

Enter the 'Meeting ID': 980 4414 0210
OTHER REMINDERS:
You are invited to SEND IN A PHOTO in advance of Congreso, to be shared during the Bendición de las Aguas as a way to help us all feel connected even when we cannot be together in person. Here are some ideas of what your photo could show: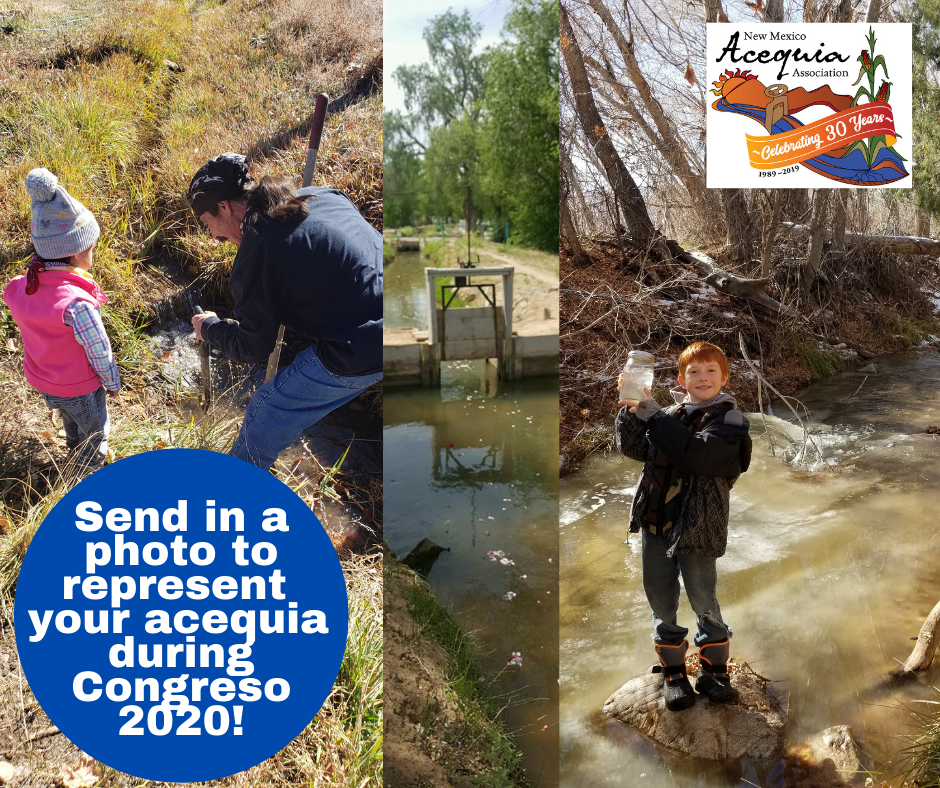 –  your jar of water for the Bendición de las Aguas
– your acequia or river or water source 
– you/your family/loved ones 
– hold a sign with a message (El Agua es Vida, El Agua No se Vende, Acequias Rising, Pray for Snow, Pray for Rain, I Love Acequias, etc.) 
Please send in your photos by Friday, December 11th to ensure your photos are included in our gathering. Email your photos to – toribio@lasacequias.org – and include your name and acequia.
We encourage you to gather a jar of water from your water source, and keep it next to you during Congreso.

If you are an official Delegate from your region, please be sure to complete your blue form:

lasacequias.org/congreso/blueform2020/
Thank you to everyone who joined us for our special pre-Congreso Community pláticas on WATER (November 18th), FOOD (November 24th) and YOUTH (December 2nd)!