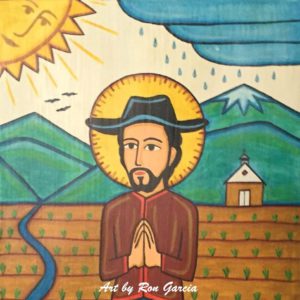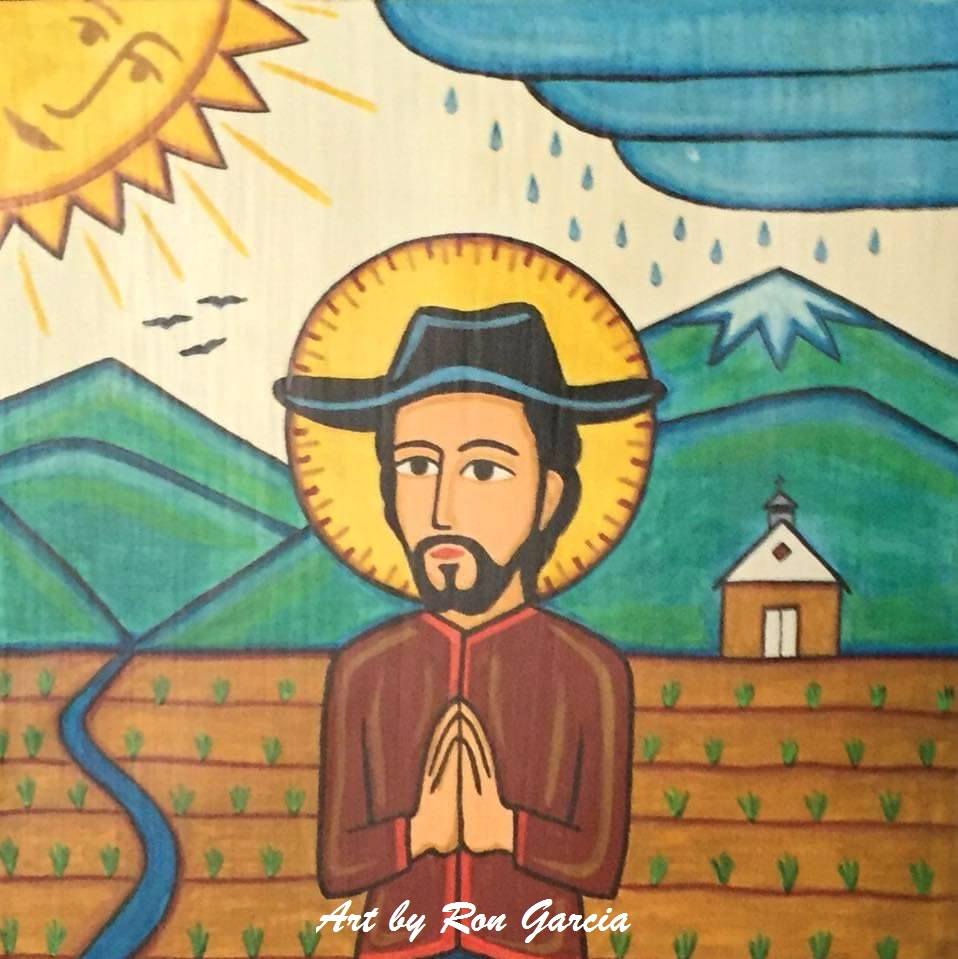 For centuries, people of faith have gathered on Día de San Isidro to pray for the blessing of a good growing season. San Isidro is the patron saint of farmers and labradores (workers or laborers). The story goes that he worked the land and yet always found time to pray and attend daily mass. His faith was rewarded with the help working his fields. His story reminds us that planting seeds in the Spring is an act of faith and hope and also that it is a commitment to care for the seeds and matitas (little plants) to have a cosecha (harvest) later in the season.
In New Mexico, several communities celebrate Día de San Isidro with processions to bless the fields and acequias. Celebrations include "paseando los santos" in a procession in the community, through fields, and along acequias where often rose petals are cast into the water as part of the blessing. According to tradition, his feast day on May 15th is an important day to plant traditional crops such as corn, beans, chile, and squash because it is after regular episodes of freezing temperatures.
This year, because of the pandemic, many of us will miss San Isidro gatherings where our faith is affirmed and our relationships with the community are strengthened through a shared blessing. Our blessings are a much needed time for an expression of querencia, the love and belonging to a place and a people.
The NMAA is inviting our statewide community to take a little time on Día de San Isidro to participate in an online gathering to honor San Isidro. We will have music, an informal blessing, and some platica (dialogue/conversation) where we can bear witness to each other's work of planting seeds, tending to plants, and irrigating. Prayers are especially needed during this time when our local farmers are being called upon to provide our communities with fresh food as the corporate/industrial food system is showing its flaws. This growing season will also be particularly challenging because of ongoing drought and the need to be gracious and kind in the way we share scarce water.
Día de San Isidro
An Online Community Gathering
Friday, May 15, 2020
9:00am – 10:00am
Join via Zoom or telephone (instructions below)
Schedule:
Welcome
Alabanza de San Isidro:
A traditional spiritual ballad and homage to our patron saint
Blessing and Reflections from Traditional Farmers and Mayordomos
Participant Reflections
Closing with Music
HOW TO USE ZOOM:
Option A – Connect from your computer or smart phone internet:
As the program opens, a box will pop up on your screen asking if it is okay to launch Zoom – click 'yes' – and then click 'join audio conference by computer'.
Once you are on the call – you can choose to turn your video on or off using buttons in the lower left side of the screen. You can also mute and unmute yourself by clicking the small microphone icon.
Option B – Call in from your phone:
Dial: 1-301-715-8592
Enter the 'Meeting ID': 944 6556 8558
We will ask everyone to mute themselves so we can hear the speaker clearly and limit background noise. To mute yourself on a landline – press *6 – then press it again to unmute yourself.
If you have any technical problems or questions about how to use Zoom – email – emily@lasacequias.org