ABOUT THE LOS SEMBRADORES FARMER TRAINING PROJECT:
WE ARE CURRENTLY ACCEPTING APPLICATIONS FOR THE 2021 LOS SEMBRADORES PROGRAM – CLICK HERE FOR MORE INFORMATION!
The NMAA Los Sembradores Farming Training Project was established in 2016 to help cultivate a new generation of farmers with deep roots in acequia customs and traditions. It is an evolution of farmer training work done previously as a collaboration with the American Friends Service Committee and Northern New Mexico College 'Sostenga' Farm.
As of 2019, the project has graduated three cohorts with a total of 12 young farmers from our demonstration farm site at Chicoyole Farm in Chamisal. Four more farmers are currently completing the 2020 program. 
Apprentices take part in a nine-month, intensive apprenticeship at the Chicoyole farm, and are supported to work their own plots in their different home communities. They gain skills and experience as acequia farmers, including traditional irrigation techniques and ancestral farming methods, as well as modern farming techniques that incorporate season extension, nutrient management, soil health, farm business planning, and regenerative agriculture.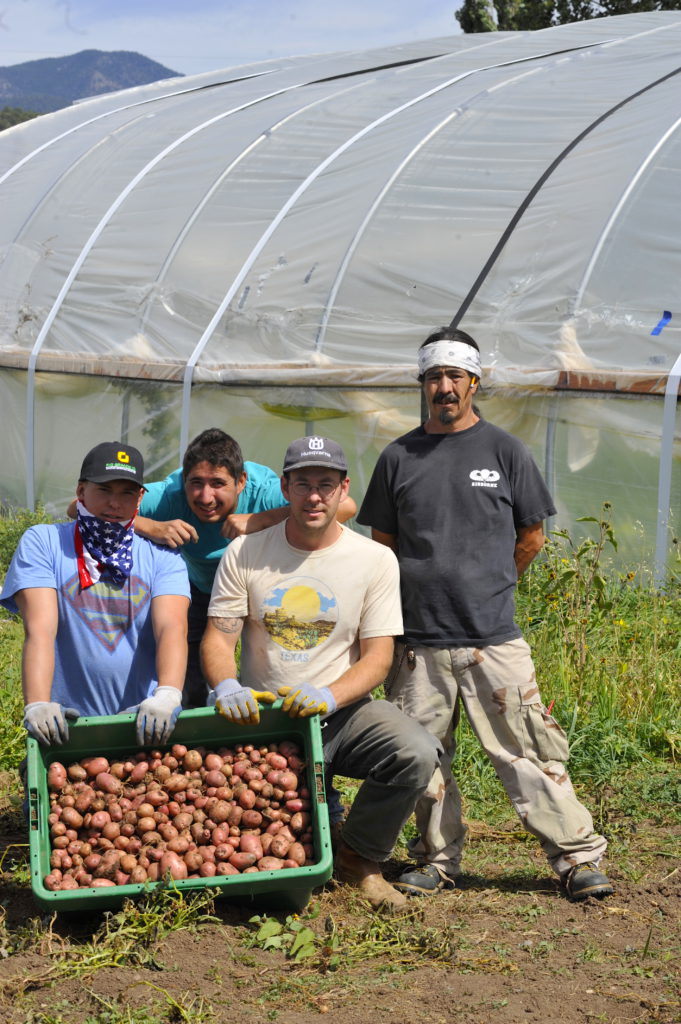 Our 'Sembradores' are recruited from acequia communities in northern New Mexico, and our graduates continue agricultural traditions and are playing active roles in their respective acequias, including restoring ancestral family land which had lain fallow or been under-utilized for years, or even several generations.
We are proud to use a detailed farmer training curriculum developed by renowned farmer and NMAA Concilio (Board) Member, Don Bustos, and the American Friends Service Committee, which we supplement with cultural activities that incorporate acequia customs and practices including:
Participation in the annual "sacando de las acequia" or Spring acequia cleaning

Seed saving practices and community exchange 

Traditional food preparation and preservation 

Herb harvesting and making "remedios" or traditional medicines

Involvement in NMAA events, statewide conferences, and other leadership development opportunities.
In addition to supporting our cohorts of dedicated apprentices, the Los Sembradores Program also offers a yearly series of public farming workshops meant to support and connect a larger network of regional acequia farmers. Past workshop topics have included soil health and restoration; pollinators; and our online Garden Platica Series.
Register and receive updates about future public workshops here
Watch special farm wisdom & garden plática videos shared by the Sembradores team during the covid-19 pandemic here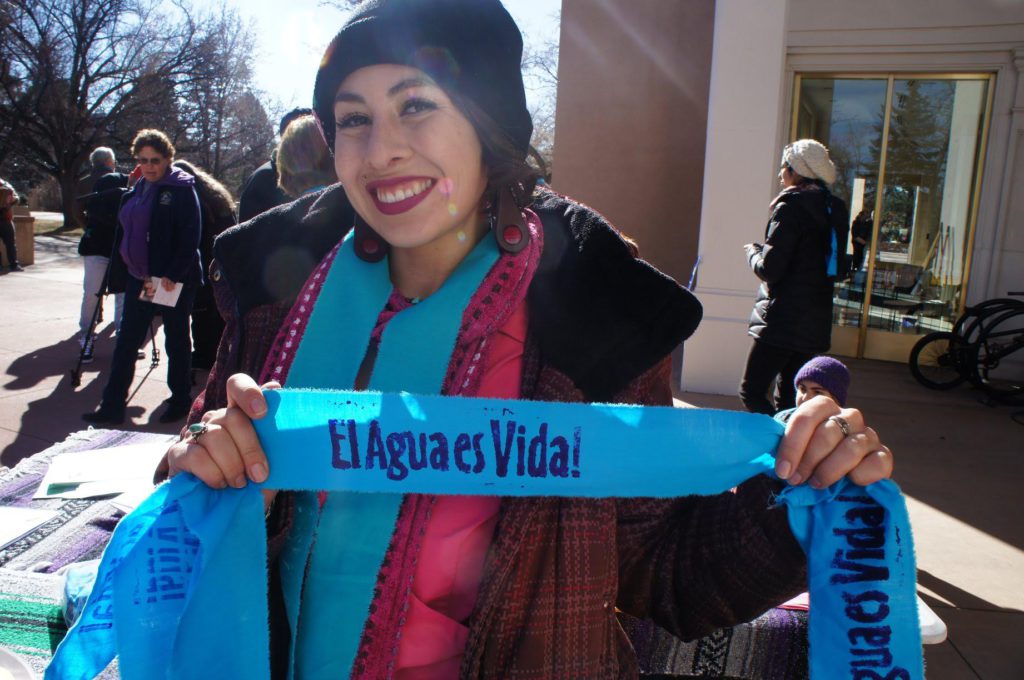 Our program is led by Farm Trainer, Donne Gonzales, with support from Edward Gonzales and other experienced farmers and acequiero/as. Growing up on the land, Donne and her family have always maintained summer gardens and small livestock, and this has developed in her a great respect and love for gardening and traditional practices. Donne speaks proudly of how rich we truly are to have sacred land, water, and native seeds – and acequias and farming as a way of life. She believes strongly in sharing gardening skills, traditions, and her querencia for the land and acequias to individuals of all ages. 
MEET THE 2020 'SEMBRADORES':
"My name is Aimee Lynn and I am 28 years old. I grew up along the acequia in the Taos/Des Montes area, in my grandfather's orchard. I left Taos to earn my bachelor's degree in Psychology/English at the University of New Mexico and, more recently, my master's degree in English at New Mexico Highlands University in Las Vegas, NM. When not in school, I worked as an outdoor youth educator with the Field Institute of Taos connecting youth to nature. My interests include mentorship, mental health, drinking tea, hiking, and spending time with friends. My goal for this apprenticeship opportunity is to reconnect with the knowledge of land, water, and belonging that was not passed on to me directly–but is in my genes and my heart. My intention is to learn how to honor the water and land and to take care of the seeds to nourish our families and communities."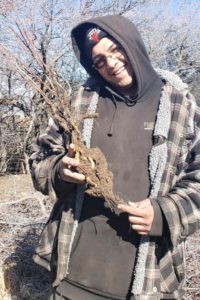 "My name is Simon Patrick Vaughn, raised in Las Trampas on very beautiful land. I have worked the land with my grandpa since I was a little boy. I want to learn how to get more produce out of my area. I want to learn new ways of farming, as I've always known a traditional side. I love everything about the land I grew up on, and my community. I come from a small community where everyone is acknowledged as neighbors and lend helping hands. I want to plant in my garden and provide fresh organic food to my family and neighbors."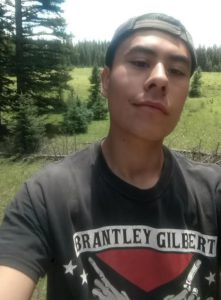 "My name is Jacob M Torres. I'm from Taos, New Mexico. I grew up working with farm animals but never helping grow things. I'm hoping to learn how and when to plant many native and non-native plants to get a better understanding of what grows well or not in our state. I also would like to learn about every step of the process from planting to harvest, what plants can grow together and what plants can't. I also want to learn about many different types of plants, what their seeds look like and how to harvest the seeds."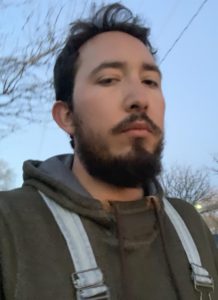 "My name is Emilio Borrego and I'm from Córdova, NM. I grew up in a remote community on an even more remote property. After I left home, went to school and saw the world a bit — I wasn't sure what I wanted next. More and more I felt drawn back to reconnect with my childhood of homegrown foods and wide open spaces.
I discovered my love for trees some time ago and perhaps it's always been ingrained in me because I grew up in a haven of trees. My obsession with fruit only confirmed what I would take to naturally — which was working with orchards and cultivating fruit wherever I could. I want to bring back our heirloom varieties that have fallen through the cracks of commercialization. These fruits and all heritage crops are our right to be able to access as farmers. I feel it is important to maintain what the past took so long to build. It's a productive and natural process — and one we see less and less in a world of homogenization.
For me — the key to farming and to all life's diversity. When we cultivate an abundance of plant life, every other form of life will follow. We already have many of the tools we need to adapt to a changing world and climate — and this right to our heritage foods, plant partners and communal knowledge are our greatest assets."
We also celebrate our past apprentices:
2017 – Matthew Encinias (Chimayo), Nicanor Ortega (Arroyo Hondo) and Shane Tolbert (Abiquiu)
2018 – Essence Quintana (Llano), Augustine Gonzales (Chamisal), Emily Arasim (Tesuque) and Jordan Lucero (Chimayo/Santa Fe)
2019 – Corilia Ortega (Arroyo Hondo) and Alejandro Mondragon (Llano)

HOW TO GET INVOLVED:
Our team takes applications for the new group of apprentices each year in January/February – CLICK HERE TO LEARN MORE AND APPLY TO BE PART OF THE 2021 FARM TRAINING COHORT!. 
Los Sembradores farm apprentices must be at least 18 years of age – and be able to commit to 16-20 hours of work per week for 9 months, generally from late February to late November. Apprentices are paid with a weekly work stipend.
Our program focuses on providing opportunities for rural and land-based New Mexicans who have connections to their acequia systems, but we welcome anyone with interest to contact us.
CONTACT US FOR MORE INFORMATION:
Donne Gonzales, Farm Trainer and Program Coordinator
donne@lasacequias.org
Serafina Lombardi, NMAA Programs Director
serafina@lasacequias.org
(505) 995-9644